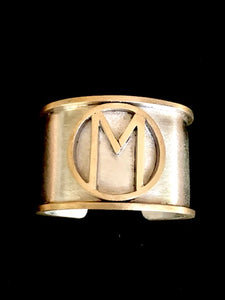 SOLD!  Let's create a custom cuff with your initials!  The cuff pictured here was made for someone whose initials are M.O. but any letters can be used, whether one letter is inside the other or side by side. There are brass "rails" along the top and bottom of the cuff and they can either be placed on top of the cuff(was seen in this photo), underneath(see other photos on my site) or eliminated entirely.  The cuff is made in thick sterling silver and is about 1 1/2" wide.  However, it can be made narrower or wider per your request.  The cuff is custom made to fit your wrist so we will work together to determine your wrist measurement.  Typically, the cuff is made in an oval shape so that it doesn't slip around your wrist.  However, if you have a very large wrist, you my be more comfortable with a cuff that has more of a round shape than oval.  
The price of a small to medium sized cuff is currently $375 for two initials with the brass rails.  The charge will be more for a large or extra large cuff, additional initials or a brand with multiple letters.  A deposit of half down is required for custom work after design is approved and before metal work is begun.  Shipping with insurance is included in price.  
Message me using the drop down menu Contact Me button on the home page to obtain more info or photos.